Large pores and dark spots are extremely disturbing. Large pores are openings in the skin that arise as a result of increased oil secretion. These depressions can occur as a result of resolving acne, extensive sun exposure or hormonal imbalances. If you think you have big pores and spots on your nose and face, then it's about time that you do something about it. There are various treatments here-and-there and your priority assignment is to find the most appropriate treatment for your condition.
What You Should Do?


Your best step to take would be a consultation with a skin care specialist or dermatologist to help you get appropriate treatment plans and options. More so, if your dermatologist does not treat cosmetic concerns, consultation with a plastic surgeon can be very helpful.
While most skin centers believe that lasers are the best treatments for large pores and dark spots, there are no laser that works best for all. There are other treatments such as dermabrasion, chemical peels, bleach, surgery and other options that may work as effective or even better with lasers.
However, you have to be aware that these treatments have their own advantages and disdvantages, thus you have to be cautious and be knowledgeable about the procedures before signing up for any particular procedure. Also, you need to make sure that you consult an experienced doctor who performs variety of laser treatments and other techniques. Seek a laser practitioner with many devices so they can prescribe appropriate treatment for your skin.
Best Treatments for Facial Pores and Dark Spots:
Proper cleansing routine with a Salicylic Acid or Glycolic Acid cleanser and a Clarisonic skin brush can help reduce pore size by removing its contents.
Obagi Newderm System with Tretinoin can greatly help the problem, however a consultation with an expert is recommended before getting such treatment.
Intense Pulsed Light from Lumenis has been effective in reducing large pore size. Although the effect is secondary to minimizing the size of a hair. Keep in mind that a "pore" always contains a hair, thus the smaller the hair in the pore, the smaller it appears.
Retin-A will help keep the pores from clogging up with dead skin cells.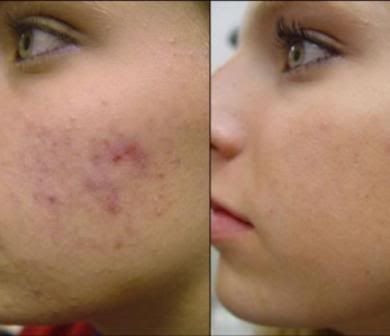 Intradermal

Botox

(Botox injections in the skin) helps reduce pore size and tighten skin giving it a smooth and even tone. Also, dark spots from acne also improve from this treatment.
Thermascan laser works by heating up the collagen in the skin causing pore size contraction and remodelling. It also treats active acne, thus preventing the appearance of dark spots.
Vi Peel is an exceptional peel that consists of a synergistic blend of TCA, Phenol, Salicylic, Retin-A and Vitamin C. For some, one peel can offer excellent results.
Candela GentleYAG laser stimulates dermal collagen production and regenerates damaged skin cells. It produces new collagen in response to laser energy. Also, this laser is the ideal laser for skin tightening, treatment of acne scars and minimizing pore size.
Fraxel Restore is one of the best lasers for skin resurfacing.Depending on the condition treated, Fraxel can be done in a series, or a single treatment.
END OF… 10 Ways to Reduce Large Pores and Prevent Dark Spots from Acne?

>