There are different types of Lasers and it is important that you always check on them before indulging yourself in any treatment. Like any other treatments, lasers should be taken seriously because it can be harmful and may put your life into some serious risks.
These lasers all intend to get rid of wrinkles, pigmentations, scars, sun damage and other skin conditions.  The main difference between these categories is the amount of downtime that goes along with them
Basically, there are 3 categories of Lasers used in most Dermatological Centers: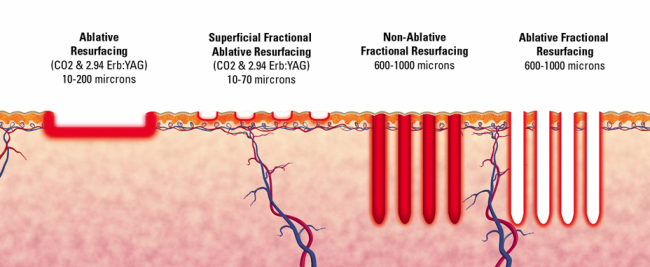 Fully Ablative Lasers
PROS 
The word ablative means "to remove surgically". Meaning, these lasers work like a minor surgery that removes a certain amount of dermal layer through the use of thermal energy emitted by the lasers.
Fully ablative lasers typically  require only 1 treatment.
The fully ablative CO2 laser is an excellent treatment option for deeper wrinkles, acne scarring and sun damaged skin.
CONS 
With fully ablative resurfacing, you will have weeks of downtime, more pain, and increased risk of side effects.
 It will necessitate  2-3 weeks to heal and possibly some redness may appear beyond this time frame.
With ablative laser resurfacing, the procedure is straightforward, but the aftercare can be tricky.  Fully ablative CO2 and Ebium lasers can create real burns thus it is necessary to always go to an expert for more effective and accurate treatment.
Fractional Ablative Lasers
PROS
Fractional Ablative Lasers typically uses the traditional ablative CO2 laser with  lowered power density. Also, the laser beams are spread out or fractionated to treat specific areas of the skin for faster healing.
It combines the gold standard results from the traditional CO2 with the improved downtime from fractionation technology.
Fractional lasers  have less risk of side effects, more tolerable, less pain, and less downtime.
Fractional Ablative Lasers include Fraxel Repair, Lumenis Total Fx (these are both fractionated CO2), Pixel, DoT and others,
The fractionated ablative CO2 lasers usually only take 1 treatment and reduce the healing time to about 1 week.
CONS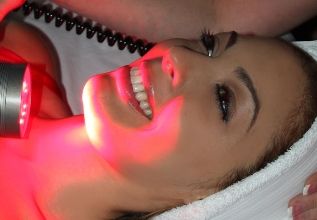 Fractionated Non-Ablative Lasers
PROS
With Fractioanted Non-ablative Lasers, the skin is not removed immediately after application of laser beams, rather the laser beam heats the skin to cause inflammation and new collagen production.
Fractionated non-ablative lasers such as Affirm and Fraxel Restore.
These lasers  have 1-2 days downtime  only; Also lesser chances of getting redness and inflammation.
Better new collagen production in the deeper skin layers causing skin plumping especially of acne scars.
Fewer complications like hyperpigmentation.
Skin texture and large pores may greatly improve.
CONS
The disadvantage is that it does not equal one treatment with the traditional CO2 laser and often is not effective for deeper lines and deeper acne scarring.
The non-ablative fractional lasers require more sessions- about 4-5 treatments to achieve maximum results.
What is the Best Laser to Use?
Getting the best laser to use really depends on how significant your skin problems are. The more significant, the more aggressive you might want to be.

Moreover, it depends on your lifestyle. Does your lifestyle require that you can't have any downtime? if so you should consider less aggressive treatments.

The other main consideration are the expected results and what the treatment is for. The basic rule is:  The more aggressive the laser, the better the results but the greater chance of downtime.

>