The Belo Medical Group never fails to surprise us all…A lot of cosmetic innovations have been  sprouting out lately and Belo is definitely one of the top surgical centers to show their avid customers the best cosmetic technology for excellent beauty.
Lately, I have been receiving a bunch of questions with regard to anti-aging and wrinkles removal…It seems like nobody wants get old…Well, that's an obvious answer but unfortunately aging is inevitable unless you convert yourself into a full-pledged vampire…awooooh!
Kidding aside, wrinkles and sagging face are the most common cosmetic problems that middle-aged people have been struggling…I understand that it's hard to face the mirror while looking at those wrinkles..But hey! it's not all about that. Why don't you turn your back, smile a little bit and be grateful about how technology reverses the impossible…Thermage Face lift is the solution.
Just lately, I have heard about Belo's Thermage face lift and seen some billboards along EDSA…Looks like Dr. Vicky Belo had caught the best fish in the sea- Miss Zsa Zsa Padilla, the woman who never gets old. Is she even a vampire? lol!  Belo says…It's Thermage Face lift…
So what's a Thermage Face lift?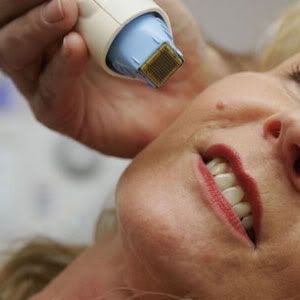 Well if you want an instant lift on your face with no needles, no cuttings and no dowtimes… you might have easily figured it out…Thermage it is!
Thermage is a machine that uses Radio Frequency to heat up the collagen fibers on the superficial skin and the deep fat. It can be used to treat various areas of your body such as your face, stomach, arms, legs and buttocks. It  is proven to have shown significant improvement in terms of body contouring without going under a scalpel.
How does Thermage work?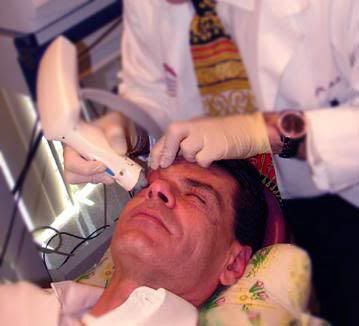 Thermage works by heating up the collagen fiber of your skin and the deep fat. When these areas are heated up, they shrink down and produces a tightening and contouring effect. During each pulse, the outer layer of the skin is cooled while the deeper layers of skin and fat are heated to produce  collagen tightening.
What are the Benefits of Thermage?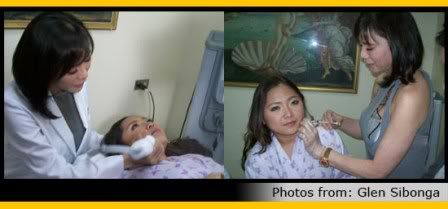 Getting a Thermage is like saving yourself from any risk of getting harmed from any surgical operations like surgical liposuction and other cosmetic surgeries. It has relatively no side effects. With Thermage, you can get…
Tighter and smoother skin
Safer and non-invasive treatment for improving aging skin
Incision free procedure, fast and easy and requires no downtime
Immediate results which can greatly improve overtime.
More firmness and better quality of the skin.
Natural looking  and tightened Jawline
Tighter skin under your chin
Higher eyebrows
Softer forehead lines, scowl lines, crow's feet, and nasolabial creases (skin around nose and mouth)
Reduced active acne and softened acne scars
What are Thermage Side Effects?
Thermage side effects are extremely rare, there have been less than 0.15% noted in terms of side effects. The side effects can be burning, swelling, redness and dimpling of the skin. Otherwise, the procedure is safe and effective.
How long does Thermage procedure take?
Thermage usually takes one to two hours of treatment depending upon the condition or severity of the area. Also, you will get rid of the operating room as it can be conveniently performed in your doctor's clinic or office. During the procedure, you may feel tolerable tingling sensation and mild warmth.
You can discuss with your doctor the plan of treatment on how to control your pain and make the treatment tolerable. Some doctor would use mild local anesthetic to numb the area and make you feel more comfortable.
How long does Thermage results last?

Thermage results typically last two or more years. Maintenance treatments depend on the severity of the skin and lifestyle of the patient, although these numbers can vary from person to person.
For most people one treatment is enough but occasionally it can take two treatments. While you get initial improvement from the treatment, the real benefit comes with new collagen formation that slowly appears over the course of about six months. And you get the biggest bump of improvement usually after the 4th or 6th month after the procedure. Generally it's long-lasting.
Thermage Recovery
Usually after the procedure, you will experience some redness and swelling. Redness typically lasts one to two hours but for others it may continue for a few days. Mild to moderate swelling lasts longer, usually around three to seven days.
Thermage Before and After by the Belo Medical Group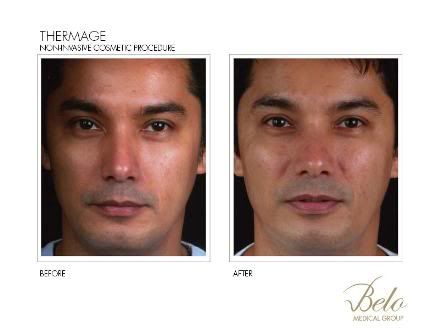 Thermage Cost
Thermage cost greatly varies depending on the area of the body being treated. Also, it may differ according to location and the service provider. In general, a full face treatment varies from $2000 – $5000. A partial face treatment (forehead, cheeks, or neck) varies from $1000 – $3000.
Belo Medical Group's Thermage cost per session:
Face- Php 100,800
Face & Neck – Php134, 400
Neck- Php 33,600.00
Forehead- Php 39,200.00
Midface – Php 67,200
Eye area- Php 67,200.00
Face and Eye- Php 184,800.00
END OF…Belo's Thermage Face Lift | Want a Face Lift with No Surgery?

>