As stated by Ms. Cathy Velencia, achieving a prefect skin is their working goal and all it takes is a beautiful skin to be beautiful. Cathy Valencia Skin and Body Center is one of the best aesthetic clinics in the heart of the city. The clinic is specialized in making a perfect-white skin using its exclusive skin whitening formulas designed to suit the needs of each client. Also, with the use of American and Japanese dermatological breakthroughs, a perfectly made skin is even made possible.
Ms. Cathy Valencia, completed her study in Atopic Dermatitis and Acne Management and is certified by Izumo Hospital, Tsunozu-Cho, Gotsu-Shi, Shimane-Ken Japan. Also, she finished her training in the administration and use of Beautiful Earth Skin Products under Dr. Tetsuo Santo of Beautiful Earth USA Incorporated.
The clinic team is composed of various licensed plastic and cosmetic surgeons, licensed general practitioners, licensed nurses, well-trained and efficient aestheticians and facialists who are competent enough to give the best service.
Below are Cathy Valencia's services and products:
Cathy Valencia Classic Facial
A thorough cleansing and balancing facial treatment and massage which captures the beauty and glow of naturally good skin.
An hour of deep cleansing and revitalization treatment which removes impurities from the skin, gently exfoliates removing dull dead-skin cells to reveal a younger-looking skin.
An effective anti-bacterial treatment applied to eliminate acne breakouts, dead cells, inflammation and pigmentation for an improved look and health of the skin
A destressing face and neck treatment which generates a cleansing and exfoliative effect on the skin with mask treatment to tighten skin for a revitalized-looking skin.
Cathy Valencia Premiere Services Peeling /Whitening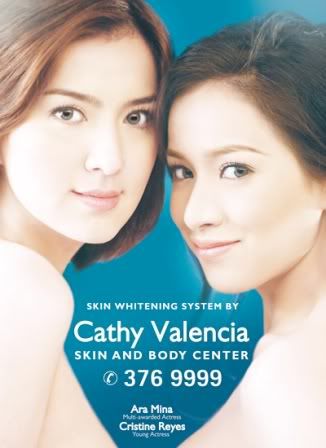 Body Peeling (recommended for skin whitening)
(Face and Neck, Armpits, Arms, Front Areola, Tummy, Thigh, Legs, Feet,, Hands, Back, Buttocks, Whole Body )
An ideal process which softens old scars and allows new skin to form which promotes a radiantly fairer and healthier-looking skin.
A microdermabrasion or deep penetrating process which removes dead skin and stimulates deeper skin layers thus eliminating acne scars and fine lines.
An effective treatment which evens out discolorations, eliminates pigmentations and dark spots for a noticeably whiter and smoother skin.
An idel process which promotes a pinkish or rosy white finish of the skin for a visibly smoother younger look.
Rejuvenates, Refines and Revitalizes.
OTHER SERVICES: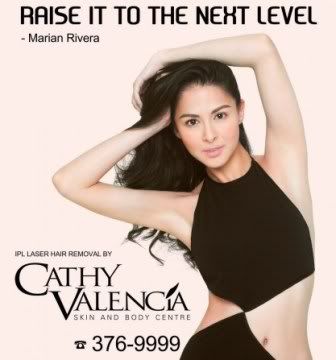 An anti-oxidant, ant-aging and whitening injection that is guaranteed to make your skin, fairer, smoother and more youthful
Non surgical removal of stubborn fat that target specific areas of the body; recommended for weight loss and body sculpting
Medical Intense Selective Light System
Painless, permanent removal of unwanted hair
A comprehensive, non surgical face lifting which improves skin texture, reduces fine lines and open pores, stimulates greater collagen production
Cathy Valencia Aesthetic Surgery Procedures
Cathy Valencia Body Treatments
A relaxing experience which combines a thorough cleaning and back massage which removes dull and dry layer of the skin for a velvety smooth feel.

A deep cleansing treatment which includes thorough exfoliation of dead skin which eliminates blotchiness and roughness with a mask to tighten skin for a healthier and fairer-looking skin.
It is a form of thermal resurfacing. It is a non-invasive treatment that uses a device to deliver radiofrequency (RF) energy into deeper layers of skin, which causes a heating action that immediately tightens skin tissue and structures.
Cathy Valencia Products
Luminous Papaya Soap
Whitening Package
Anti-aging + Whitening Package
Acne Solution + Whitening Package +Anti Aging
>