Laser treatments  have been gaining continuous popularity in terms of treating different types of scars. Nowadays, lasers are being used to treat acne scars and statistics have showed significant results.
In terms of popularity, Fractionated CO2 lasers ( e.g. Fraxel Re:pair) has earned positive endorsement from reputable cosmetic and dermatological doctors.  As compared to the traditional CO2 lasers, Fraxel CO2 is highly recommended by most of  the skin experts.
Fraxel CO2 Laser
Fraxel is known to be the gold standard of "fractionated" technology. It is the original fractional non-ablative laser system, and has established a firm track record of consistent clinical research and is FDA approved.
Why is it called Fraxel CO2? it's simply because fractional technology has been combined with the effectiveness of CO2 lasers. From the word itself- fractional, meaning it fractionates or splits the laser beams into very small dots ( sort of like making a bunch of dots) that covers the skin surface creating significant thermal energy.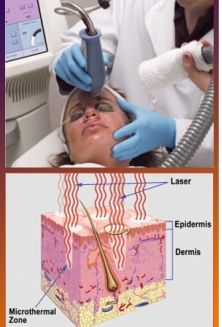 The advantage of the fraxel laser is that the spaces in between the "dots" remain healthy- these non-affected skin sections, which are very tiny, help speed up the healing. In short, it preserves untreated tissue between treated tissue to decrease downtime and lessen the risks for complications.
Benefits of Fraxel CO2 Laser 
 For most experts, it is the only fractional ablative device that promises greater ease of use, faster treatments, greater patient comfort, shorter downtimes, less risk of long term permanent discoloration (hypopigmentation) and less risk of infection
Fraxel CO2 treats up to 4 times faster than any other ablative device on the cosmetic market.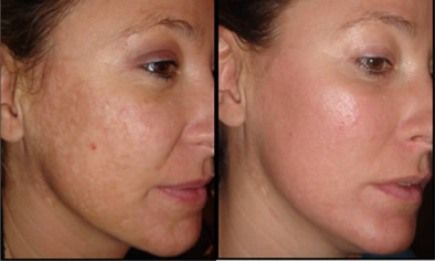 Can remove skin at deeper levels. Other areas  besides the face can also be safely treated.
It delivers the broadest range of fractional ablative treatment in a single hand-piece device- superficial to deep (5-70mJ); mild to aggressive (5-70% coverage).
Clinically demonstrated to penetrate beyond 1.5 mm removing up to 6 grams of dermal tissue leading to greater skin tightening (15 to 25 grams are removed in a facelift).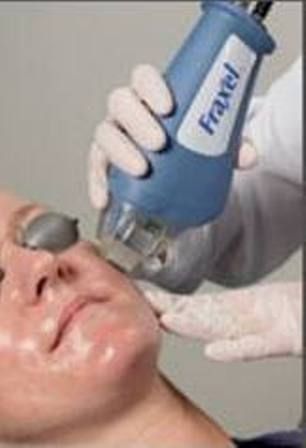 It does not ablate all the skin at one session, it  leaves normal skin in between these treated areas.
It can treat superior access in small areas such as around the eyes.
It uses a continuous motion scanning technique which affords optimal uniformity of treatment areas resulting in a more effective treatment and healing time.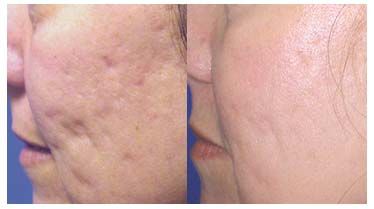 Segmental areas can be done without treating the whole face. So if your scarring is limited to one area, then the treatment might take less time and be less costly than a whole face treatment.
Healing time is 3 to 4 days; or up to 10 or more days, but the healing is more comfortable compared to the old CO2 and there is much less redness and less risk of scarring.
Fraxel CO2 laser have proven its benefits and impressed a vast number of experts. For some, Fraxel can truly be considered as a "miraculous treatment" for acne scars, and one needs to have reasonable expectations of what can be done. Make sure to always consult a certified dermatologist or plastic surgeon for proper assessment and clinical advice.