Gan Advanced Osseointergration Center or GAOC is currently doing an excellent job in the world of Dental Cosmetic Medicine in the Philippines. With GAOC's most advanced technology, simple dental services and procedures such as implants, fillings and surgeries are even made easier and better.
With GAOC's one-of-a-kind computer-aided 3D imaging programs,  surgical procedures are performed more accurately in a minimally-invasive approach. Also, it allows them to plan a patient's procedure with a laser-like precision in which the dentist can can see the exact position and depth of a certain dental deformity.
The Person Behind GAOC
Dr. Steve Mark Gan is the man behind GAOC. He specializes in  Oral Implantology and Maxillo-Facial Surgery.  He was trained and educated in the USA in the field of Dental Medicine. After gaining extensive trainings and experiences, he went back to the Philippines to share his well-honed skills and abilities with his countrymen.
Dr. Steve Gan received his dental degree in 1993 from the University of the East in Manila. He then underwent a one-year oral surgery externship at the University of the Philippines-Philippine General Hospital before taking an advanced Prosthodontic residency at the University of Southern California in Los Angeles from 1995 to 1998.
Because of his expertise and charm, Dr. Gan has become the Number One choice of society's most well-known personalities. His long and star-studded list of clients has made him to be known as  "The Dentist of the Stars".
Dr. Gan is a fellow/member of:
Philippine Academy of Implant Dentistry
Academy of Osseointegration
International Congress of Oral Implantologist
American Society of OsseointegrationAmerican College of Oral Implantology
 Why choose GAOC?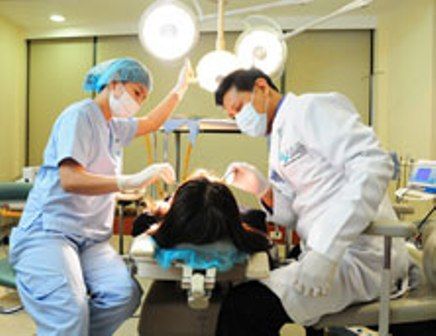 GAOC's head dentists, namely Dr. Steve Mark Gan, have professionally trained in the USA.
GAOC uses a state-of-the-art equipments and supplies that are outsourced from the USA.
GAOC staffs and  facilities ensure quality and trusted services- what the patient wants is what the patient gets.
GAOC is the first dental center in the country to be accredited by the Philippine Government's Department of Tourism for medical tourism.
GAOC Offered Services
Dental Implants
Cosmetic Dentistry
Pediatric Dentistry
Orthodontics (Braces)
Tooth Removal and Surgical Dentistry
Endodontics (Root Canal Therapy)
Teeth Grinding and TMJ Disorders (Painful Jaw)
Oral and Maxillofacial
You can Contact GAOC at:

Trunk Line: (632) 843-GAOC (4262)
E-mail: info@gaocdental.com

>