House of Obagi offers various products and services that are not only limited to treat the signs of aging but also to address various skin problems and skin issues. With its perfect mix of well-trained dermatologists and experts, House of Obagi promises to satisfy its clients by producing exceptional results in the vast aspects of cosmetic and dermatological world.
House of Obagi Services
House of Obagi Prevent
Obagi Signature Treatment
This intensive treatment leaves you skin looking younger and fairer. The treatment ends with a 30-minute massage to relax and soothe your muscles.
Obagi Acne Cure Treatment
A deep cleansing treatment specifically designed to clear the skin of acne, whiteheads and blackheads.
Obagi Photolumines Skin Treatment
A combination of potent formula of professional-strength vitamin C and hydroquinone to even skin tone, enhance collagen production and protect the skin from free radicals.
This provides exceptional skin moisture. It removes dead skin cells and impurities while simultaneously bathing the new skin with cleansing, hydrating and moisturizing serums.
House of Obagi Body
Sensi Peel Exfoliating Axillary Treatment
The chemical peel treatment is ideal for sensitive skin. It's so mild that it works best to lighten the underarm area.
Smoothing Body Peel Treatment
It evens out skin tone and lightens pigmentation. Moderate to light exfoliation can be expected 3 to 5 days after treatment. The end result is smooth and supple skin that is more even in tone and texture.
A procedure where small amount of medication and supplements are injected into specific areas of the body. MesoLIPO is used for weight loss and body sculpting to reduce contour specific pockets of fat. It improves blood flow and dissolves excess fats deposits.
A non-surgical treatment to get rid of varicose and spider veins. Treatment is performed every 3 to 4 weeks, with signifiant reduction after the first session. This is a simple outpatient procedure with no hospitalization required.
The laser hair removal procedure uses the Light Sheer Diode Laser to effectively get rid of excess or unwanted hair. Treatments are done every 1 to 2 months for 4 to 8 sessions depending on the type of hair and areas involved.

House of Obagi Rejuvenation
This treatment minimizes pore size and reduces fine line using a superficial radiofrequency co-ablation. Session are performed every 2 weeks for 4 to 6 sessions.
House of Obagi Lift
Skin lightening and facial contouring that uses radiofrequency with the DermaRF technology. Also,  It reduces fine lines, wrinkles and improves the appearance of acne scars. Pores are also becomes less prominent over the next 3 to 6 months. Treatments are done every 2 weeks for 6 sessions.
Botox injection relax the muscles affected by dynamic wrinkling and expression lines on the forehead, and crow's feet. Can also be used for facial contouring, for patients with hyperhidrosis or excessive sweating problems on the palms and axial, and for prominent keloids that are unresponsive to steroid injections.
A treatment using hyaluronic acid injections for smoothing out facial lines and wrinkles, especially laugh line. This can also be used for augmenting the lips and for elevating depressed scars and other skin contouring deficiencies.
House of Obagi Light and Correct
Uses a low concentration of Trichloroacetic Acid (TCA) to effectively remove the thin surface layer of the damaged skin. The dead skin cells are replaced with the healthier cells, allowing the skin's original clarity and tightness to resurface. This treatment is appropriate for the face and other body parts.
15% Coat System – This is recommended to rejuvenates sensitive, normal, dry or thin skin. It helps get rid of the comedones, as well as complement and enhance the skin restoration mechanism of the Obagi Nu-Derm System.
20% Coat System – This is recommended for the thick skin and/ or those who can tolerate a more intense burning sensation to treat brown spots, melanoma, and skin roughness. It also helps minimize large pores, skin laxity, fine lines, wrinkles and scars.
Offers unique blend of acids to provide gentle but effective peel, resulting in tighter, smoother, brighter-looking skin. Salicylic acid-based peels are used to improve patient outcomes for a range of skin conditions, including acne, scarring, photodamaged, and melanoma.
Eliminates all types of melanin hyperpigmintation and rejuvenates the skin. Also, it's an effective cell renewal and a balance skin tone and colour, leaving it smoother and providing a rejuvenated appearance.
An excellent replacement for chemical peeling and microdermabrasion. It utilizes a special glass-tipped resurfacing probe, radiofrequency energy splits the nitrogen in the atmosphere into active plasma particles and is best use for pore closure and evacuation of blackheads and comedones.
Removes dead skin cells by using a diamond fraise to gently scrape off the upper epidermis of the skin at precise angles. The process stimulates the production of new skin cells and collagen over time.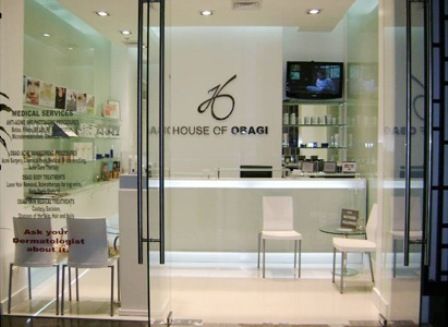 The skin is sandblasted with a flow of fine crystals applied with a vacuum suction to remove rough surface cells.
Glycolic Rejuvenating Peel (D.R.)
Recommended for patients with acne since it unclogs pores, thereby reducing comedones.
Enhance Jessner's Solutions (D.R.)
The exfoliating treatment combines alpha hydroxy acid with kojic acid and Jessner's solutions to address hyperpigmintation from sun damage, inflammation and hormonal change.
It aids in the treatment of pigment disorders, fine line and wrinkles, sun damages skin and acne. Mid to moderate exfoliation will be experienced. Overall, the final result will be plump, hydrated and ultra-soft skin.
Ultra Forte Exfoliating Treatment
The most suitable candidates for this deeper and more active treatment are those with resilient skin with more dramatic wrinkling, sun damage, and acne scarring.
It exfoliates and draws out impurities out of the skin while introducing vitamins, enzymes and nutrients into the skin.
Uses thermal current to seep away small to large warts and epirdemal growths on the face, neck and other areas of the body.
Excision of moles and other benign and malignant skin lesions and scar revision.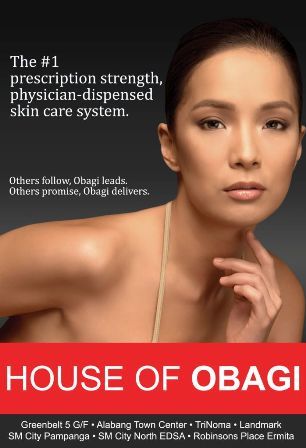 House of Obagi Contour
A non-surgical method for body contouring that uses Monopolar Radio Frequency with the EMW RF Contouring technology improve your body's contours and reduces excess fats by applying deep dermal heat to the fat bundles which eventually stimulates collagen remodeling and blood circulation in the area. Treatments are done very 2 weeks for around 6 sessions.
House of Obagi Sculpt
This non-surgical procedure uses Ultrasound Cavitation. It can treat multiple areas including the abdomen, love handles, thights, buttocks, bra straps, saddle bags, and upper arms.
 This consists of a series of microinfusions using a hypotonic mixture containing LipoAOP to create a physiologic salt solution. This substance dissolves fats by attracting water from the intercellular area into the fat cell causing it to swell. A special mild and mechanical massage treatment follows to help break the bloated fat cells.
House of Obagi Surgical
Mini Facelift/ Featherlift/ Endotine Ribbon
The Endotine Ribbon is a bio-absorbable implant used in a mini facelift or featherlift through minimally invasive surgery or an open surgical approach.
In a cosmetic Rhinoplasty, the proportions of the nose may be improved for better harmony with other facial features.
Blepharoplasty involves the removal or repositioning of excess tissue (skin and fat) for both functional and cosmetic reasons.
Liposuction works by removing excess fat deposited between the skin and the muscle with the use of stainless steel tube called 'cannula'. Body contour is improved dramatically when the tiny tunnels collapse, shrink, and eventually disappear.
Involves placing silicone or saline breast implants behind the breast tissue or beneath the muscle to add size and improve the shape and fullness of the breast.
A surgical procedure involves the insertion of artificial implants into the buttocks to enhance size and shape.
House of Obagi Smile
Reconstructive dental procedures are also available at House of Obagi Alabang Town Center. A perfect smile enhances the appeal of an already beautiful face.
House of Obagi Products
Obagi Nu-Derm® System
Obagi-C® Rx Systems
Obagi Professional-C Serums
Obagi ELASTIderm® Eye Treatment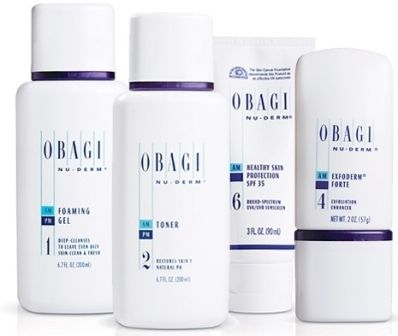 Obagi ELASTIderm® Décolletage System
Obagi ELASTILash® Eyelash Solution
Obagi CLENZIderm M.D.® System
Obagi Blue Peel®
Obagi Blue Peel RADIANCE™
Obagi 360