Age spots are also known as 'Sun Spots', 'Liver Spots', or 'Hyperpigmentation'. These stubborn spots are usually caused by excessive exposure to the sun and/or hormonal imbalances that are usually present during pregnancy and also when you are using hormonal products like contraceptives.
How to Treat Age Spots?
There are lots of effective treatments to treat age spots. The best way, however, is to begin changing your lifestyle. Meaning, you will need to re-think when going out under the sun.
You can start by wearing a quality sunscreen with good SPF (SPF atleast 30) and make sure to reapply every 2-3 hours. Also don't forget to wear a hat when you can and as much try to do outdoor activities earlier or later in the the day. If you are going to spend time and money lightening your brown spots, you don't want to go out in the sun and undo all your hard work.
Obagi Nuderm have gained popularity in reducing sun spots.  99% of patients have a significant reduction in their age spots.  It's a consistent line that if used correctly under a supervision of an expert, you will love the results! Obagi Nu-Derm System uses both Tretinoin Cream and Hydroquinone to visibly lighten age spots as well as the fine lines and wrinkles that are due to chronic sun exposure.
Sunblock – It is very imperative that you use a sunblock every day. The sun is the number one culprit in the appearance of brown spots. Always use a Zinc Oxide based sunblock and/or with titanium dioxide content- it has broader UVA and UVB coverage than anything else.
Retin-A- Exfoliates, thickens the dermis and reduces the loss of elastin. Also, it disperses Melanin granules. In other words it diminishes brown spots. Retinoid creams, which are derived from Vitamin A, are very helpful in lightening brown spots and they also help improve skin texture.
Hydroquinone – Also shows good results. It temporarily bleaches the skin to improve the sunspots. A combination of two prescription strength medications: Tretinoin cream and 4% hydroquinone have shown effective results. Also, Kojic acid is another ingredient that can be helpful, but it is slightly less effective than hydroquinone.
Lasers and Intense Pulsed Light (IPL) treatments– Used as a last resort but most of the time very effective.  Stubborn age spots are usually treated with lasers like the Ruby, Fraxel, Alexandrite, and Nd:YAG. Intense pulsed light or IPL, can also be helpful. The loss of melanin sometimes results in Ivory white spots on the skin – this is worse than the alternative. The treatments are also far more expensive than the treatments described above.
PSR3 (plasma skin resurfacing) technology is on one of the newest treatments for age spots. The correct one depends on your skin type, the type of pigmentation, the area, the color and the depth at which it lies in the skin.
Carbon Dioxide (CO2) resurfacing can take most sun spots away that are at a certain depth. However, CO2 resurfacing has some down time and you might need up to a week or more to recover. The other lasers have little downtime but may require several treatments and sometimes does not completely remove the spots.
Fractionated laser resurfacing, especially the Active FX, can help improve the appearance of sun spots, but must be used judiciously off the face.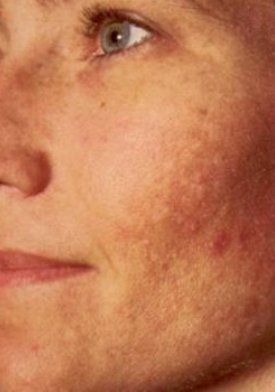 Prescription-strength Bleaching Cream with or without a Retinoid will help to remove some of the discoloration at some exent.
A series of Superficial peels such as Glycolic, Salicylic, Jessners or a single medium-depth chemical peel by an experienced dermatologist should help.
Topical treatments such as the Melanage Peel, or other measures that include topical hydroquinone can improve the appearance of brown pigmentation.
Remember, The age spots need to be evaluated as to various factors such as the location, size and palpability. In other words spots on the legs may react differently than those on the face. Also, if the spot is elevated than that will require a different treatment than a flat lesion.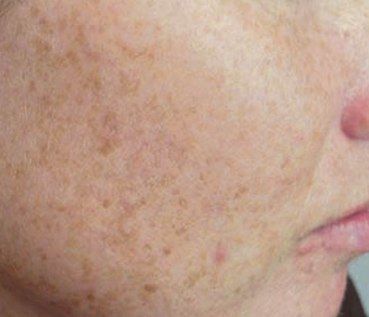 Your Dermatologist should choose the best method of treatment depending on the type of spot that you have, also she decides whether or not to use laser, creams, laser, peels or a combination of the above.

Always remember to see a dermatologist with extensive experience in treating age spots and other pigmentary options; let them evaluate your problem (and your skin type; your tolerance of down time) and discuss the best options for you.

Another thing to realize is that these spots can come back if you don't take care of your skin.

>