Keloids are considered as scars that grow beyond its natural boundaries.  They can happen anywhere on the body but are common on the earlobes and trunk especially on the chest and upper back.
Some experts would say that keloids look significantly different from a normal scar- they call it " an actual tumor in a scar tissue"
Treating keloid scars is often very frustrating because there is a big possibility of recurrence. Besides that, keloids can be very resistant that even aggressive treatments may become useless.
Causes of Keloids
Any form of injury to the skin, including surgery, ear body piercing, accidental injury, or a tattoo can cause a keloid. However, Keloids can also occur on their own without any known cause. Also,  wounds that have issues with contamination or infection may be at higher risk for keloid formation
Treatments for Keloids
Remember, the main determinant of scar treatment is the diagnosis. Keloids are unfortunately one of the most difficult conditions to treat. There has been no treatment shown to be fully effective but different options are significantly improving and producing better results.
Keep in mind that even with optimal treatment, recurrence may still occur even several years after treatment.  Below are some treatment options that are recommended by most plastic surgeons and dermatologists:
Steroid injections- Multiple sessions are required for this treatment. These are usually effective to treat smaller keloids. Bigger keloids are treated with steroid to soften and prepare the area for excision. Also, it used after excision to prevent recurrence. If not used properly, Steroid treatment may cause tissue atrophy and for darker skin types can also cause hypopigmentation. These usually need to be repeated monthly for 3-4 months.
Keloid Excision- Usually recommended for large-sized keloids. However, it is necessary that another treatment (such as radiation therapy) is done after excision to decrease the chance of getting it back. Meticulous closure of keloids after excision can greatly prevent recurrence. Surgical excision alone has resulted in documented recurrence rates of 50 to 80%. However, excision of the keloid followed by Radiation therapy has been shown to reduce the recurrence rate to 20%. It is suggested that irradiation be initiated within 24 hours of the excision.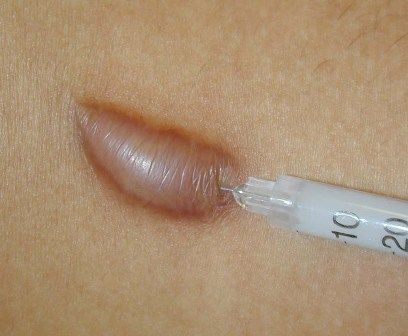 Radiation Therapy- One of the most effective treatments for keloids so far  is thru radiation. It is usually done after surgical excision. This treatment is is usually recommended for severe and recurrent keloids that does not respond to other mild treatments.
Silicone sheeting & Pressure- After excision, application of silicone sheeting and pressure earrings has been shown to be superior compared to excision alone when it comes to decreasing recurrence.
 Topical or Injectable medications- Medications such as steroids, topical agents such as Imiquimod (Aldara) and some chemotherapy agents have shown good results in decreasing keloid recurrence. However, these medications must be used cautiously and should only be administered by experts.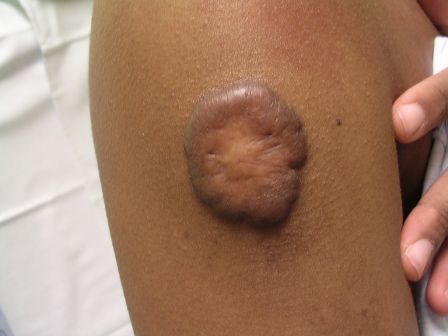 Radio-frequency surgery- For some experts, it is better than the conventional scalpel because it allows meticulous dissection of the scar tissue without any crush from a blade or thermal damage.
It is important to work with a certified plastic surgeon or dermatologist who has significant experience with Keloids. In this case, experience, tools and skills really matters.

END OF…Top 6 Treatments for Keloid Scars | Best Keloid Removal

>