Fraxel laser is the famous brand of fractional laser which has gained popularity in the Philippines through one of the famous cosmetic doctors, Dr. Vicky Belo. According to my research, Dr. Belo gained an international award for getting the most number of Fraxel procedures all throughout the country.
What is a Fraxel Laser?
Fraxel is one of the best options for "fractional resurfacing" which allows lesser downtime and fewer potential side effects. It is an excellent treatment for improving the texture of the skin and eliminating wrinkles, fine lines, freckle, sunspots, uneven pigments and acne scars. Fractional resurfacing may simply be explained as an eraser that wipes away dead and ugly skin through the use of Carbon Dioxide (CO2) and Erbium lasers. However, the latest fractional lasers can remove "fractions" of skin leaving behind islands of normal skin that can repair and rejuvenate the adjacent areas.
Types of Fraxel Laser
There are different types of fractionated lasers. Currently there are 3 new "Fraxels" in the market, none of which are created equal.
Fraxel re:store- Is the non-ablative Erbium fractionated laser. It works best on mild to moderate wrinkles, brown pigmented spots, melasma, acne scars and other types of scars. It can be used to treat anywhere on the body and on any type of skin.
Fraxel re:fine- Is a mild treatment applicable to treat minor skin damage. Like Fraxel re:store, Fraxel re:fine requires at least 3-5 treatments to achieve maximum results.
Fraxel re:pair- Is the latest fractionated CO2 laser with the most advanced skin rejuvenation treatment available on the market today. It is ablative and works well  for patients who have deeper lines, loose sagging skin, acne scars and surgical scars.
Advantages of Fraxel Laser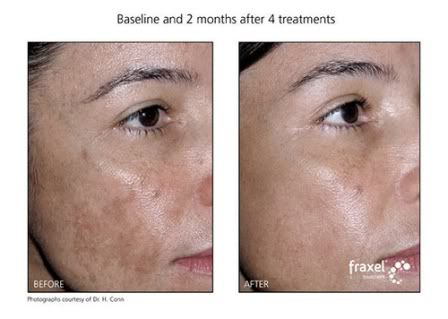 Assures small amount of downtime with tolerable pain and fast recovery.
Only requires topical anesthesia in an office or spa setting.  Excellent option if you don't want sedation.
Can be used on all skin types including the face, neck, and chest and hands
Stronger and better than a chemical peel.
Works great for mild sun damage, wrinkles and acne scars.
Disadvantages of Fraxel Laser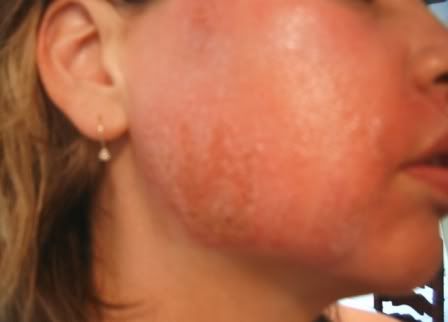 May require several sessions to achieve optimum results.
May be costly since several treatments are needed.
Patients with low pain tolerance may experience pain even with topical anesthesia during procedure.
Fraxel Laser Side Effects
Whether it's a Fraxel laser or not, potential side effects may still be present. Commonly, side effects are related to the experience of the laser specialist rather than the chosen laser treatment. Side effects rarely happen, but it may cause risk and damage to your skin. The most common side effects  are:
Burning and Scarring
Skin pigmentation problems ( hyperpigmentation).
Redness and Swelling that may last from 2 to 3 days
Skin flaking or Peeling
May cause acne break-outs ( if with active acne)
Reminder: Always consult an expert before undergoing this procedure. This treatment uses a wide range of laser intensities and may cause harm if not performed correctly. For instance, Acne scar treatment may require a higher intensity than other conditions. Therefore, it is very imperative to seek out a very competent laser specialist to perform the procedure. High settings can have higher side effects and longer downtimes and are not suitable for all individuals.

END OF…Treat Acne Scars, Wrinkles & Fine Lines | Fraxel Laser is the Solution

>